There were some big sales this month that didn't quite get their own recap (I'm not made of time, you know). First up is Bonhams' sale in Boca Raton, Florida. Top sale went to our featured Duesenberg for $698,500. Cool cars were topped by this 1925 Stutz Series 695 Speedway Six Speedster that sold for $49,500. You can check out complete results here.
Top sale at Mecum's auction of the Fran and Ron Green "Verde Classics Museum Collection" in Boynton Beach, Florida, went to this 1961 Chrysler 300G Convertible for $130,000.
Our feature car from this sale, the Tri-Power Catalina Convertible, sold for $58,000. Some of my favorite cars from this sale included a 1990 Jeep Grand Wagoneer Limited (possibly the best-looking SUV ever built). It sold for $17,500. These things have always been collectible and will only continue to go up in value.
Then there was this 1957 Dodge Custom Royale Convertible. Old Mopars can be hard to find and this one is beautiful. It sold for $47,000. You can find complete results from this sale here.
Next up was Silverstone Auctions' Race Retro & Classic Car Sale held on February 23rd. The top sale was our featured Connaught Formula One car. It sold for $296,400. Our other featured car – er, bus – was a 1962 Leyland Routemaster. I've been corrected, it's actually an AEC Routemaster. Anyway, it sold for $31,460. The coolest non-feature car was this 1973 BMW 3.0 CSL Batmobile FIA race car for $129,200. Check out full results here.
We move over to H&H's Pavilion Gardens sale of February 26th. Top sale was this 1929 Lagonda 2-Litre Low-Chassis Speed Model Tourer for $152,000.
Right behind it was this, more attractive (in my opinion), 1935 Alvis Speed 20 SC Lancefield Drophead Coupe. It sold for just slightly less – $151,500.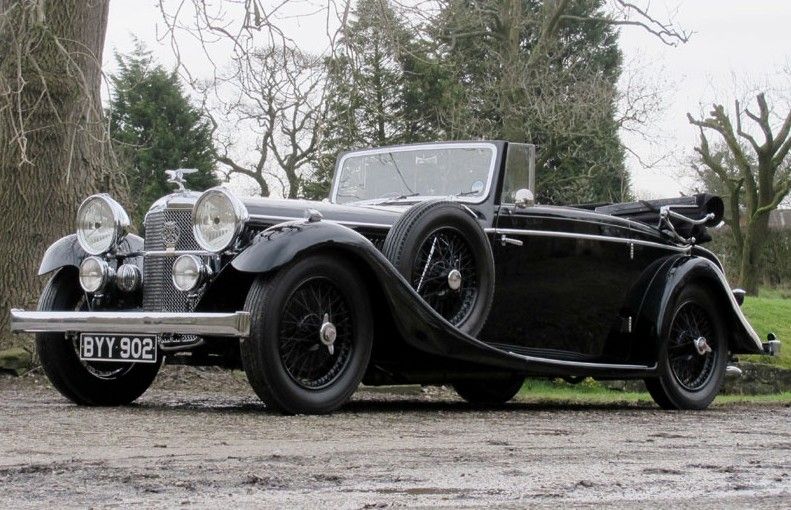 And the last car from this sale – one I almost featured, but ran out of time because of the Amelia Island sales – is this 1920 Calthorpe 10hp Super Sports. It sold for $18,700. Click here for full results.
And finally, the largest (in terms of cars featured) sale we've ever covered: the incredible Bruce Weiner Microcar Collection. There really weren't highlights outside of the cars we featured (we featured 80 of them). Here's a rundown of our feature cars and what they sold for, listed from the top seller down to the cheapest we featured (p.s. If you own a F.M.R. Tiger, Reyonnah, Inter 175 or Peel P50 – get it out, dust it off and sell it – apparently it's worth way more than anyone guessed):
You can check out complete results from this sale here.