Gooding & Company held their very successful Monterey sale last weekend. They had the top two cars in terms of selling price. The top car was this 1936 Mercedes-Benz 540K Special Roadster. It sold for $11,770,000 including buyer's premium. It is an astounding car at a price that was more or less expected.
Not far behind was, not surprisingly, this 1960 Ferrari 250 GT LWB California Spyder Competizione. This was the 1960 Chicago Motor Show Car and one of a few high-dollar Ferraris sold from the Sherman Wolf Collection. It sold for $11,275,000.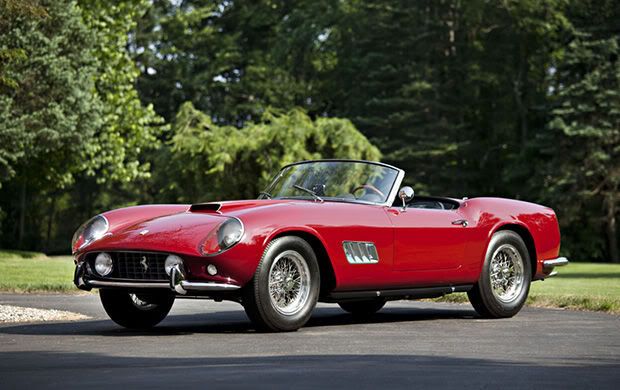 Other Ferraris from this collection included our featured Ferrari 340 MM Spider that brought $4,730,000. Also from this collection was the 1957 Ferrari 500 TRC that sold for $4,510,000.
The final car from the Sherman Wolf collection also went for over a million dollars (unfortunately, do to the insanely high number of million dollar cars, those are the only ones we're recapping in this rundown. Fortunately, these are also the most interesting cars). It was this 1985 Ferrari 288 GTO. If $1,045,000 isn't a world record price for this model, it's pretty close.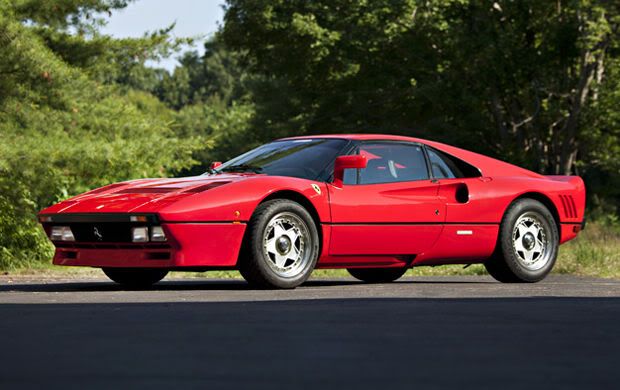 Our other featured Ferrari, the ex-Andy Warhol 1955 857 Sport, sold for $6,270,000. And another really high-dollar Ferrari was another California Spider, this one a 1957 LWB Prototype for $6,600,000.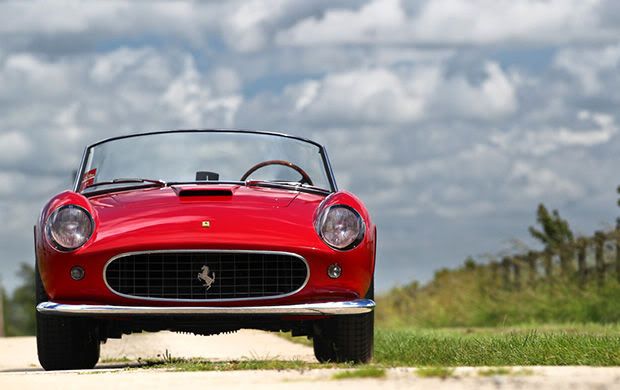 For something other than a Ferrari, check out this 1928 Bentley 4.25-Litre Le Mans Sports Bobtail that brought $6,050,000.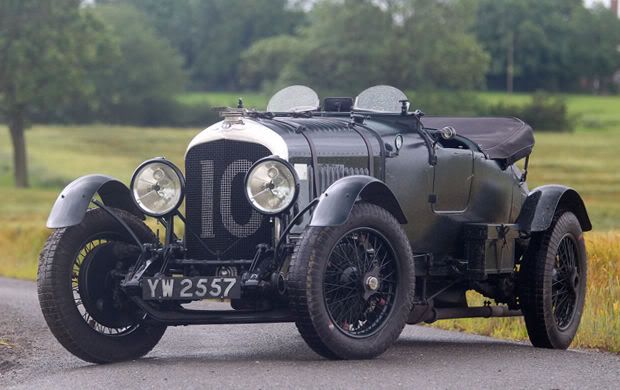 A couple of Maseratis up next, first the ex-Jay Kay 1955 A6G/2000 Berlinetta by Frua (below). It sold for $1,650,000. And the 1959 Tipo 61 Birdcage (second below) sold for $3,520,000.
Mercedes-Benz 300SLs were, as always, well represented. Two of them cracked the million dollar mark at this sale. Strangely, a Roadster was the highest-selling of them all. A white 1963 300SL Roadster sold for $1,595,000 and a blue 1955 300SL Gullwing sold for $1,127,500.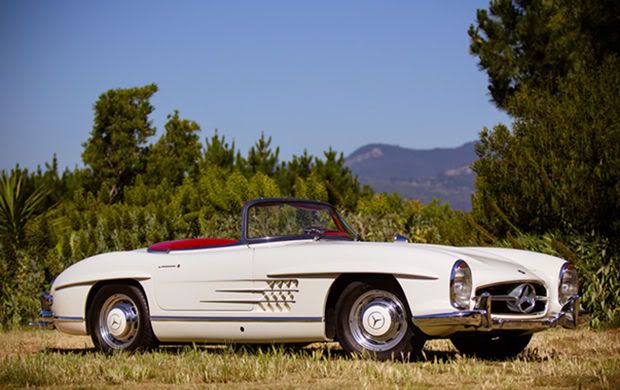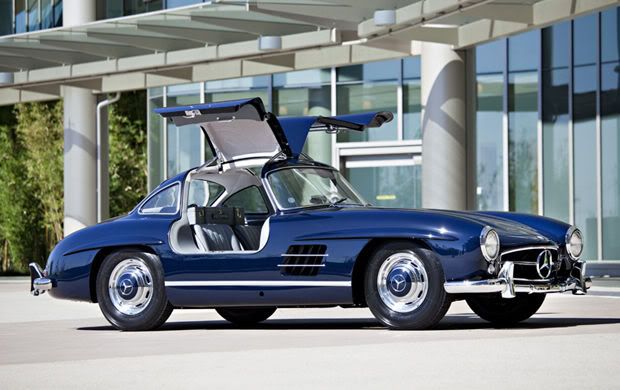 There were three million dollar Bugattis at this sale, the cheapest of which being a 2008 Veyron at $1,182,500. Our featured 1920 Type 13 sold for $379,500. Our other featured Bugatti, the 1932 Type 55, failed to sell. A 1938 Type 57C Stelvio brought $1,292,500.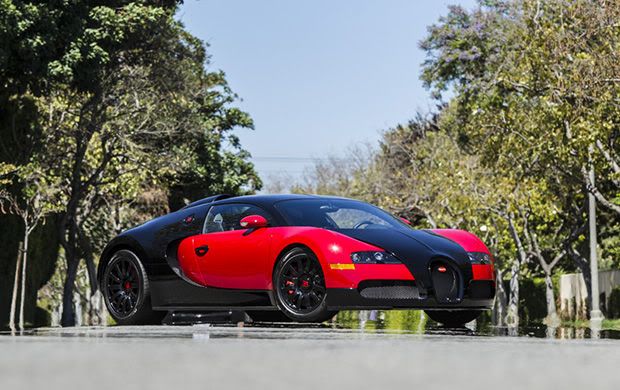 The other Bugatti was a beautiful yellow and black 1936 Type 57 Atalante. It sold for $1,485,000.
This 1964 Ford GT40 Prototype is the second-oldest GT40 in existence. It sold for a hefty $4,950,000.
Our featured – and unbelievably awesome – 1932 Daimler Double Six sold for $2,970,000. Another English car was this 1953 Jaguar C-Type which went unsold on the block but found a buyer a few minutes later with a little behind-the-scenes work from the folks at Gooding & Co. The final price was $3,725,000.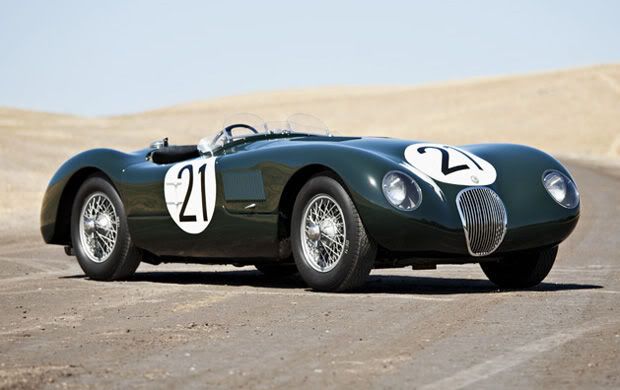 This 1919 Miller TNT is sort of the pre-Miller Indy Car Miller Indy Car. It's an ex-Harrah Collection car and it sold for $1,210,000.
One feature car that didn't sell was the 1911 S.P.O. Raceabout. The 1960 Porsche RS60 did, however, bringing $3,465,000. Two more million-dollar Ferraris included a 2003 Enzo for $1,430,000 and a 1962 400 Superamerica Coupe Aerodinamico for $2,365,000.
This 1972 Lamborghini Miura P400 SV sold for $1,375,000.
Duesenberg recap time! Only the ex-Clark Gable Model JN went unsold. The Model J known as "Blue J" went for $1,980,000. The Willoughby Limousine was the bargain of the bunch at $330,000 and the Murphy Convertible Sedan sold for $522,500. And okay, I lied when I said we would only highlight million dollar cars. Here are some of the more interesting lots sold, starting with a 1970 Monteverdi HAI 450 SS Prototype for $577,500.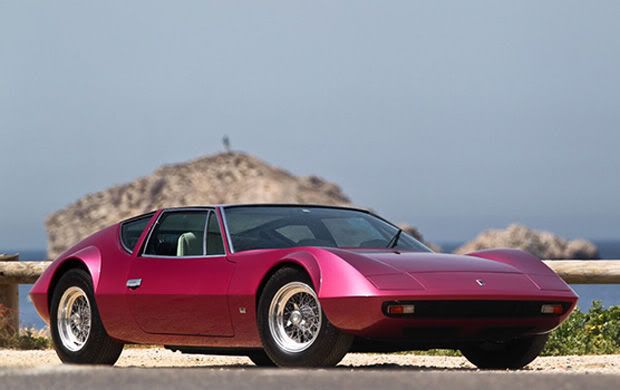 And some pre-WWI cars, beginning with this 1913 Pope-Hartford Model 33 Four-Passenger Touring Phaeton. It sold for $319,000.
This 1904 Knox Tudor Touring was the earliest car at the sale. It brought $198,000.
And this really cool 1907 Panhard et Levassor Model U2 Transformable Seven-Passenger Town Car with body by Audineau & Cie is, I guess, an early version of the "retractable hardtop." Instead of retracting, in this case, the entire top half of the town car body comes off to turn it into a large touring car. See the "before and after" photos below. How cool. It sold for $264,000.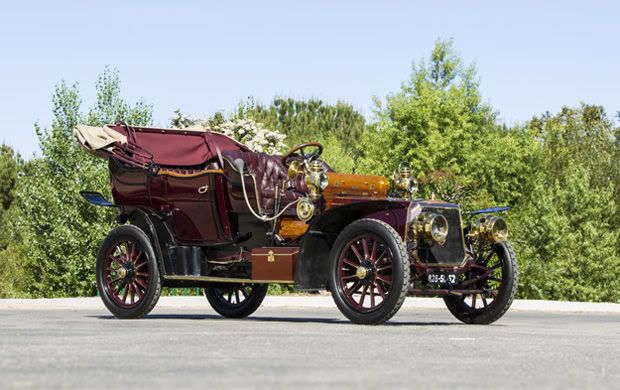 For complete results, click here.